Religion's Ascension to a Top-Tier Right During COVID: New Report Unpacks the Supreme Court's Recent Religious Liberty Cases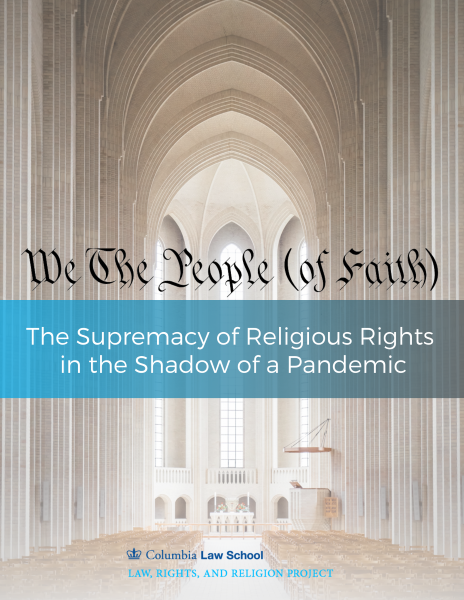 Press Advisory
Date:        June 29, 2021
 
Subject:   New Report Unpacks the Supreme Court's Recent Religious Liberty Cases: Religion's Ascension to a Top-Tier Right During COVID
 
Contact:    Elizabeth Reiner Platt, elizabeth.platt@law.columbia.edu
                   Katherine Franke, katherine.franke@law.columbia.edu
                   Lilia Hadjiivanova, lh3024@columbia.edu
---
New York, New York — The Supreme Court transformed constitutional law in April 2021 when it ruled that state and local governments seeking to curb the spread of the novel coronavirus could not restrict religious gatherings more rigorously than any other type of activity, such as shopping for groceries or working at a warehouse. The (5-4) opinion in Tandon v. Newsom was only one in a barrage of cases—many brought by conservative legal nonprofits—that sought to limit states' and localities' ability to apply society-wide COVID restrictions to religious practitioners.
 
A new report released today by the Law, Rights, and Religion Project (LRRP) at Columbia Law School—We The People (of Faith): The Supremacy of Religious Rights in the Shadow of a Pandemic—shows how the Supreme Court's COVID-era opinions have created a hierarchy of constitutional rights, with religious rights at the top. This legal regime will have a resounding impact on U.S. law, affecting policymakers' ability to protect public health, prevent discrimination, and secure labor rights long after the current COVID-19 crisis has abated.
 
"During this once-in-a-lifetime catastrophe, the Supreme Court has declined to step in to protect abortion rights, voting rights, or prisoners' rights. Meanwhile, it has adopted a hair-trigger standard for finding that public health measures intended to curb the virus's spread violate the right to religious exercise," said Elizabeth Reiner Platt, LRRP's director. "The Court's new constitutional standard makes it nearly impossible for policymakers to regulate religious practice, even to prevent the spread of a deadly disease."
 
"By making free exercise a top-tier right, the Supreme Court incentivizes litigants to frame challenges to government policies in religious terms whenever possible. This, in essence, theocratizes the Constitution," said Katherine Franke, faculty director of LRRP and James L. Dohr Professor of Law at Columbia Law School.
 
Among the report's key points:
The Supreme Court has created an unprecedented "discrimination on steroids" test for finding that a law is unfair to religious practice. This standard is far more protective than the test for finding discrimination based on race, sex, or other grounds.
The Supreme Court has awarded far greater protection to the right to free exercise of religion during the COVID pandemic than other rights, including the right to abortion, speech, voting rights, and prisoners' rights. 
In its COVID/religious rights opinions, the Court has declined to show deference to scientific experts and has even seemingly rejected common knowledge about day-to-day activities, such as the many ways in which a church service differs from a trip to the grocery store, and might therefore be regulated differently in order to reasonably protect public health.